This page is for characters not in PvZCC.
Extra Zombie
Extra Zombie

Toughness

Very Low (3 Peas(Without Special Items)) Extreme (10,000(With Items))

Speed

Slow (Fast with speed boots)

First Encountered

Special

Dr. Zomboss's Second in command.

Almanic

No Entry in Almanic
Note: You can use this zombie in PvZFF Fiction without asking as long as he remains Dr. Zomboss's second in command in stories.
Extra Zombie: Dr. Zomboss thought I wasn't good enough to be in the main attack group. But then he realised I was nearly as clever as him. Now I'm his second in command.

Extra zombie is a weak zombie who is nearly as smart as Dr. Zomboss. He wears special items to make him able to do things eg. Gravity Helmet, Speed Boots.
Special Items
Extra Zombie would have been dead years ago if it weren't for these items.
Speed Boots
Speed Boots

Effect

2x Speed

Weakness

Slowing/Freezing Plants

Duration

As long as wearing, max 1 week straight otherwise brain damage may occur.

Description

These boots generate huge amounts of adrenalin and inserts it into the bloodstream, speeding up the wearer.

Toughness

High (77 Peas)
These speed boots speed up the wearer.
Gravity Helmets
Gravity Helmet

No, the blue stuff isn't soda.

Effect

Makes all non-following projectiles spiral in to the orb in the 2 laser beams.

Weakness

Cattail Spikes, instant kills, other non projectile and other following attacks.

Duration

Infinite as long as wearing.

Description

These gravity helmet has a special micro black hole that only effects certain things. How it works, nobody knows.

Toughness

High (80)
These gravity helmets destroy most projectiles.
Nukeproof Belts
To be added later
Zombie Goo
Zombie Goo

Toughness

45 hits. Each 15 hits, degrade.

Speed

Fast

First Encountered

Special

Eats plants...and other things instantly and duplicates in the process, he is also able to absorb some projectiles like peas, into his body to duplicate.

Almanac

Zombie Goo likes brains. Not suprising, but he also likes everything else. He eats anything smaller than himself.
Giga Imp
Giga Imp

Giga Imp...he shall destroy you

Toughness

Very High (100 peas)

Speed

Fast

First Encountered

Special

None

Almanic

Giga Imp is often asked why he is an imp, but also so strong. He just replies, "Dr. Zomboss made me."
Crazy Jave
Crazy Jave

Crazyness

9001

Almanic

Crazy Jave: Sorry, no almanic, but anyway, Crazy Dave is my brother!
The Chef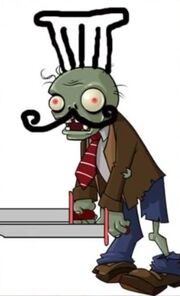 The Chef Is A New Species Of Zombie That Will Appear In The Plants Vs. Zombies Web Series Plants Vs. Zombies: The Series.